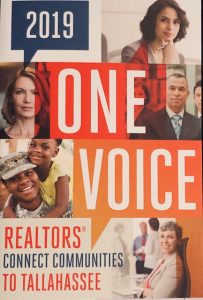 Part of what I do every year is travel to Tallahassee and Washington D.C. to lobby for private property rights and issues that affect commercial real estate.  This year, we had a lot of wins, especially at the state level, with Governor DeSantis signing several bills we supported into law in the last month.  These laws will be going into effect between July 1, 2019 and January 1, 2020 and all have an impact on commercial real estate.
Florida Gov. Ron DeSantis signed several bills into law that have a direct impact on real estate.  The results include the following:
Reduction to the state tax on commercial leases to 5.5%.  Known as the business rent tax (BRT), the decrease will take effect January 1, 2020. (HB 7123).  If you are a landlord, remember to adjust the sales tax on your invoicing.  If you are a tenant, make sure the adjustment has been made.
Allowing local governments to close a permit six years after issuance, as long as there are no apparent safety hazards, and preventing local governments for penalizing property owners for open permits applied for before they owned the property.  This law will take effect Octover 1, 2019. (HB 447).  This is great news, as closings should not be delayed for permits that were opened and not closed long ago.
Authorization of online remote notaries while protecting the integrity and security of documents being notarized.  You can start using online remote notaries beginning January 1, 2020. (HB 409)  This is especially good news for our international buyers and sellers as notaries in other countries are quite different from notaries and the U.S., making getting documents notarized abroad a challenge.
Allocation of $682 million for environmental projects specifically for improving water quality and for Everglades and beach restoration.  This is wonderful news for all Floridians.  After all, people come here for our beaches and water activities, not our mountains!
Developers in areas lacking private wetlands mitigation credits may now partner with local governments to mitigate on publicly-owned conservation land. Goes into effect July 1, 2019. (HB 521)
Legalization of self-driving cars.  Effective July 1, 2019 (HB 311).  How will this change parking requirements in buildings, cities, and neighborhoods?
If there is an issue in your neighborhood or that you are facing that restricts your private property rights or that affects how you conduct business in a negative way, give me a call to discuss.